25 memorable Olympic moments
Jesse Owens, great grandson of a slave, was the fly in the ointment of Hitler's Berlin Games in 1936.
The Olympic games have always inspired greatness and courage, heartache and controversy. Here, Greg Baum chronicles some of the most unforgettable events over the past 116 years of competition.
1. MUNICH MASSACRE, MUNICH 1972
Early in the morning of the Olympics' darkest day, in Munich in 1972, eight Palestinian terrorists climbed a fence into the athletes' village and took hostage members of the Israeli team, mainly wrestlers and weightlifters. Immediately, one was shot dead and his naked body thrown into the street. Extraordinarily, at the insistence of IOC president Avery Brundage, the Games continued. Within 24 hours, following failed negotiations and a bungled rescue, 11 Israelis and a German policeman were dead, as were all but three of the terrorists. A fascinated world watched it all unfold on live TV. Munich 1972 was meant to be Germany's redemption; instead, it cruelled the Olympic cause. A proposal for one minute's commemorative silence in London has been rejected.
2. CATHY FREEMAN, SYDNEY 2000
Advertisement
Running, Cathy Freeman noticed, made her happy, and everyone around her, too. It never made more people happy than the 112,524 - representing 20 million - at the Olympic stadium in Sydney in 2000 when she won the 400-metres gold. Freeman transcended those Games. She lit the flame at the opening ceremony, keeping both the secret and her poise when a mechanical malfunction threatened to strand her on a watery high. She rose above the pressure to blitz the track. Granddaughter of a stolen-generation survivor, she helped Australia to rise above its problematic past. Done, she sat on the track for fully a minute, blank-faced, seemingly in shock. Then she got up, and ran some more.
3. BEN JOHNSON, SEOUL 1988

For the Seoul Olympics 100-metres final in 1988, Canadian Ben Johnson was pumped up. "When the gun go off, the race be over," he trumpeted. So it proved. Johnson exploded to victory in 9.79 seconds, a world record, leaving in his wake US arch rival Carl Lewis. It was called ''the greatest sprint race in history''. Johnson said the record would be his for maybe 100 years, the gold medal forever. Neither lasted even two days. Johnson tested positive for a steroid, so becoming the Olympics' most infamous cheat. "Thanks a lot, you bastard," said The Ottawa Citizen. Lewis, noting Johnson's "very yellow" eyes, said he was not surprised. In time, six of the eight runners in that race would be tainted by doping allegations, including Lewis. The greatest race was the greatest disgrace.
4. EMIL ZÁTOPEK, HELSINKI 1952
Czech legend Emil Zátopek ran as if every step hurt, but it was his opponents who suffered underfoot. From 1949 to 1951, he entered 69 long-distance races and won them all. In Helsinki in 1952, he won both the 5000 metres and 10,000 metres, then registered for his first marathon. Mid-race, British world-record-holder Jim Peters, already at his limit, tried to fool Zátopek by complaining that the pace was too slow. Zátopek scooted away to win by more than two minutes. Peters didn't finish. It is unlikely that Zátopek's triple-gold feat will ever be matched. Sixteen years later, Australia's Ron Clarke, noted for setting numerous world records but ill-fated at the 1964 Tokyo Olympics, visited Zátopek, who, as they parted, pressed a small parcel into his hand. Opening it on the plane, Clarke found one of Zátopek's Olympic gold medals.
5. TOMMIE SMITH AND JOHN CARLOS, MEXICO 1968

The image of Tommie Smith and John Carlos on the podium after the 200-metres final in Mexico City in 1968, heads bowed, gloved fists raised to salute black power, is one of the most famous in Olympic history. Beside them, in mute support, is Peter Norman, the Australian silver medallist, whose idea it was for them to each wear a glove; Smith had forgotten to bring his. Initially, there was only opprobrium. The press called the demonstration "unpleasant" and "bizarre". Bombastic IOC president Avery Brundage fumed, and the Americans were sent home. All three medallists suffered long-term repercussions. In time, their heroism was acknowledged. In 2005, San Jose State University erected a statue of Carlos and Smith. When Norman died in 2006, the pair flew to Australia to act as pallbearers.
6. JESSE OWENS, BERLIN 1936

Jesse Owens, great grandson of a slave, was the fly in the ointment of Hitler's Berlin Games in 1936. His victories in the 100 metres, 200 metres, long jump and relay disproved the myth of Aryan supremacy, though not to Hitler, who said it demonstrated merely that black people were animals. In a pinch in the long jump, Owens said he received advice from Luz Long, Germany's great hope. Later, they ran a lap of honour together. Owens said all his medals and cups meant nothing beside Long's "24 carat" friendship in that moment. But back in New York, Owens was not allowed through the Waldorf's front door to a reception held in his honour, nor to ride at the front of a bus. At long length, Carl Lewis would emulate his feats, Michael Johnson his style, but both deferred to Owens' legacy, which is surely the Olympics' most profound.
7. KIEREN PERKINS, ATLANTA 1996
In Barcelona in 1992, Kieren Perkins was supreme in the 1500 metres. During the lead-up to Atlanta four years later, he was ill and out of form. As his event approached, he remained out of sorts, under pressure, even panicky. He survived qualifying by a third of a second (a fingernail's length), which left him stranded in lane 8 for the final. He knew only that he had to lead, and he did. When he might have faltered at 1000 metres, he found new strength. "His body was swimming 15:20," wrote The Age's Pat Smith, "his courage 14:56." He won. A nation felt a lump in its throat. A year later, when Test cricket captain Mark Taylor was facing the axe from the side, Perkins faxed him thus: "You can do it and I know you will." Instantly, Taylor made a century.
8. HERB ELLIOTT, ROME 1960
John Landy launched a distance-running revolution in Australia; Herb Elliott completed it. In four years, from 1957, he ran 42 races - both 1500 metres and the mile - and won them all, repeatedly breaking world marks. The pinnacle was the 1500-metres final in Rome in 1960 when he burst from the pack on the third lap and won by 15 metres. His world-record time would have won gold at seven of the next nine Olympics. No Australian performance was ever more commanding. Under eccentric coach Percy Cerutty, Elliott had punished himself: now a business and civic career awaited. He retired at 22. At the same Olympics, battered Bill Roycroft, who'd fallen from his horse earlier in the Games, escaped his hospital bed to showjump Australia to equestrian gold with a flawless round. One was unbeatable, the other would not be beaten.
9. IAN THORPE, SYDNEY 2000
Of Ian Thorpe's many triumphs, the greatest was in a relay. The Americans had never been beaten at the 4 x 100-metres freestyle, and when Gary Hall jnr led Thorpe by almost a body's length at the last turn in Sydney in 2000, it seemed they must prevail again. But Thorpe gathered in Hall, stroke by stroke, and won by a handspan, smashing the world record. In Darling Harbour, where thousands watched on a giant screen, the roar was like an explosion. Atypically, Thorpe leapt from the pool to rejoice with teammates, all playing air guitars to mock Hall, who had promised to smash the Australians "like guitars". With five gold medals, Thorpe is Australia's greatest Olympian. Only the maverick Dawn Fraser, who won the 100-metres freestyle at three successive Olympics, could challenge for that title - and she'd rather celebrate.
10. LIGHTNING BOLT, BEIJING 2008
Michael Phelps' eight swimming gold medals in Beijing in 2008 represented an unparalleled feat of accumulation but, for sheer spectacle, he was outdone by Jamaican Usain Bolt's two thunderous runs to claim gold in the 100 metres and 200 metres on the track, both in world-record time -performances that reverberated like the 2008 drums at the opening ceremony. In the 100, Bolt - unusually tall for a sprinter - knew by watching on the screen that he had the race won at 80 metres and slowed to slap his own chest. He also ran with an untied shoelace. IOC president Jacques Rogge accused him of disrespect. Michael Johnson's 1996 record in the 200 had looked unassailable; Bolt had to run the race out to lower it. Then, for good measure, Bolt added a relay gold.
11. JOHN WING, MELBOURNE 1956

Against a turbulent international political backdrop, the so-called "friendly Games" in Melbourne in 1956 unfolded tensely. Three days before they finished, an anonymous letter arrived, suggesting that at the closing ceremony, athletes should not march in their teams as per protocol, but intermingle, casually and joyously. "There will be only 1 NATION. War, politics and nationality will all be forgotten," it read. Unexpectedly, the idea was adopted, and has more or less stuck. The author of the letter was awarded a medal and, 30 years later, was revealed to be John Wing, then a 17-year-old Chinese-Australian schoolboy, now a carpenter living in England. Wing's inspired flash, said Olympic historian Harry Gordon, was "the greatest single contribution the 1956 Games made to the Olympic movement".
12. MARATHON MAN, ATHENS 1896
The marathon is synonymous with the Olympics. Inspired by the legend of Pheidippides, it was run for the first time in Athens in 1896. Australian Edwin Flack, victorious already in the 800 metres and 1500 metres, led for 37 of the 40 kilometres before retiring exhausted. Behind him, Greek water carter Spyridon Louis had stopped at an inn for what was variously reported as a glass of wine or cognac. Now he took the lead. In Panathinaiko Stadium, women threw jewellery at him and two Greek princes joined him for the final lap. Granted the gift of his choice by King George I of Greece, he asked for, and got, a donkey-cart for his business. A barber gave him free shaves for life. But third place-getter Spyridon Belokas was found to have taken a lift in a carriage and was disqualified. Ah, the Olympics.
13. NADIA COMANECI, MONTREAL 1976
When 14-year-old Romanian Nadia Comaneci became the first gymnast to score a perfect 10, in Montreal in 1976, the scoreboard couldn't cope; it was configured for only three figures. Comaneci went on to register seven 10s in total: four on the uneven bars, three on the beam. She was marked down only for severity. "She seemed," said The Guardian newspaper, "almost inhuman in her exactness." Comaneci was then 150 centimetres and weighed 38 kilograms. Subsequently, she grew and did not again reach those heights. In 1989, she escaped what she realised was a prisoner's life in Romania, and has since lived in the US. Due to regulation changes it is no longer possible to compete at the Olympics at 14, nor is 10 now a perfect score. Comaneci's record will never be equalled.
14. DEREK REDMOND, BARCELONA 1992
Injury was Briton Derek Redmond's curse; it became his calling card. Thwarted by tendinitis in Seoul in 1988, Redmond was midway through a 400-metres semi-final in Barcelona in 1992 when his hamstring popped. Extraordinarily, he staggered on, quixotically intent on qualifying. Suddenly, his aghast father, Jim, emerged from the stands, thinking first to stop him, then to support him to the line, brusquely brushing off officials and the Red Cross as he went. "It was a spontaneous gesture," he said, "as if I had seen him hit by a car." Both cried, and so did the much-moved crowd. Redmond did not race seriously again, but he did play basketball for Great Britain - and forged a new career as a motivational speaker.
15. CHARIOTS OF FIRE, PARIS 1924
Eric Liddell and Harold Abrahams were the charioteers of fire in the famous film, which takes some licence with their exploits in Paris in 1924. Liddell, a Scottish runner and rugby international who was born in China to missionary parents, was a likely winner of the 100 metres until he discovered that the heats were set down for a Sunday. "I object to Sunday sport in toto," he said. Instead, he turned to the 400 and, despite a manic style said to prompt "ribald laughter", won it. Meantime, his friend Abrahams - a Jew, so with his own cross to bear - won the 100. While the heats were run, Liddell was at church, delivering a sermon. A year later, Liddell returned to China to work as a missionary, and ended up staying for the rest of his life.
16. BLOOD IN THE WATER, MELBOURNE 1956
In 1956, Melbourne's Olympic pool became a proxy battleground. When Hungary's world-beating water polo team disembarked from their plane on arrival in Australia, they learnt that an uprising against the Soviet Union in their occupied homeland had been brutally put down, costing more than 3000 lives. Playing the USSR in a semi-final, the Hungarians were resolved not to lash out, but to goad their opponents. It worked. "There was fighting above the water, and fighting beneath the water," said forward Ervin Zádor. With two minutes remaining, the USSR's Valentin Prokopov nakedly assaulted Zádor, who was dragged from the pool with blood streaming from his face. Briefly, a riot threatened. The image raced around the world. Hungary won gold, but half its team sought asylum. Zádor became a swimming coach in the US; one of his protégés was Mark Spitz, winner of nine Olympic gold medals in the pool.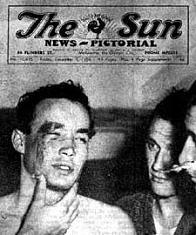 17. BOBBY PEARCE, AMSTERDAM 1928
No more chivalrous deed has graced the Olympics than Australian rower Bobby Pearce's in Amsterdam in 1928. In a preliminary race in the singles sculls, Pearce was leading Frenchman Victor Saurin when, alerted by the crowd's hullabaloo, he turned to see a family of ducks swimming across the course, single file. "It's funny now, but it wasn't at the time," Pearce later said. He paused, but Saurin sped to a five-length lead. Pearce then gave chase and beat Saurin by 30 seconds in course-record time, duck stop included. The following day, the pedigreed Pearce became the first Australian Olympic rowing champion. Four years later in Los Angeles, he became the first Australian to defend an Olympic title. Subsequently, Pearce became a Canadian citizen.
18. MUHAMMAD ALI, ATLANTA 1996
In Barcelona in 1992, the Olympic flame had been lit by a fiery arrow. At Sydney 2000, it would be lit by Cathy Freeman. Between them, and surpassing both for tear-jerking melodrama, was the flame-lighting at Atlanta in 1996. As Cassius Clay, he had won Olympic boxing gold in 1960. As Muhammad Ali, he was "the greatest". Now, though, he had Parkinson's and stood at the top of a ramp, angelic in white, left hand twitching uncontrollably at his side, the Olympic torch aloft in his right. Eighty-five-thousand people gasped, then let out a roar. "Ali, Ali, Ali," they chanted, reprising three decades of acclaim. The Atlanta Games would have their problems, but none could dim this light.
19. ABEBE BIKILA, ROME 1960
In Rome in 1960, just 24 years after Mussolini's taking of Addis Ababa, the capital of Ethiopia (then known as Abyssinia), diminutive Ethiopian runner Abebe Bikila, a private in Haile Selassie's army, lined up at the start of the Olympic marathon. He was unknown and barefoot. Two hours later, as dusk fell, Bikila led the field down the torch-lit Appian Way. Poetically, he made his break at the Obelisk of Axum, which was taken from Ethiopia to celebrate Mussolini's conquests. His 2:15.16 time was a world record. He danced a joyous jig. "It is," said Britain's World Sports magazine, "a fine, unsophisticated, illogical victory." Far from embarrassing Italy, Bikila's win symbolised a break from its past. East Africa was to become, and remains, the pre-eminent force in long- and middle-distance running.
20. JOHN STEPHEN AKHWARI, MEXICO 1968

Tanzania's John Stephen Akhwari was an accomplished - sometimes barefoot - marathon runner. In Mexico City in 1968, he was participating in the race when he fell, badly gashing and dislocating his knee. More than 10 kilometres remained. Akhwari's coach bandaged his knee and urged him to withdraw, but he insisted on limping on. By the time he reached the stadium, the sun had set and it was cold. The winner had finished an hour earlier, and had been crowned. Akhwari, given a standing ovation by the 7000 spectators who remained, broke into a trot, finished, then was carried away by the Red Cross. Asked later why he had persevered, he famously replied, "My country did not send me 5000 miles to Mexico City to start the race. They sent me to finish."
21. BOB BEAMON, MEXICO 1968
Except for Neil Armstrong's, it was the leap of the century. In the thin air of Mexico City in 1968, American Bob Beamon, relaxed by "a few shots of tequila" the previous evening followed by sex with his girlfriend, set off down the long-jump runway. "I could not feel my legs under me," he said. "I was floating." In the 32 years since Jesse Owens, the world record had advanced 22 centimetres. Now, in one bound, Beamon had stretched it by 55 to 8.9 metres. Learning this pit-side, he suffered what his doctors called a "cataplectic seizure". Beamon's world record stood for 23 years. His Olympic record still stands.
Eds note: the way Bob Beamon prances off after his jump is a highlight in itself.
22. ZOLA BUDD, LOS ANGELES 1984
It began with a journey and finished in a trip. When 17-year-old apartheid-bound South African "tiny tot" Zola Budd unofficially broke the world 5000-metres record in Stellenbosch in 1984, Britain's Daily Mail manoeuvred to get her into that year's Los Angeles Olympics as a Brit. Despite objections from cabinet ministers, anti-apartheid protesters and fellow athletes, the bid succeeded. Early in the final, Budd, running barefoot, tangled legs with American favourite Mary Decker, whose poster hung on Budd's wall, causing Decker to fall. What Budd called a ''tidal wave of concentrated hostility'' descended from the stands. Demoralised, Budd faded to finish seventh (Decker, injured, had been unable to resume the race). "Zola tripped me," Decker accused, through tears. Disqualified, then reinstated, Budd returned to the UK amid death threats, then fled to South Africa. There she remains.
23. STEVE REDGRAVE, SYDNEY 2000
After winning his fourth rowing gold medal in four Olympics in Atlanta in 1996, Steve Redgrave invited anyone who saw him in a boat again to shoot him. Two days later, secretly, he changed his mind. Described as "terse and resolute", he set his sights on Sydney, en route discovering he had diabetes. ''I was pretty close to jacking it all in,'' he said. On a bright morning in Penrith, Redgrave's coxless four triumphed, so fulfilling his dream to "make the Olympic rings in gold medals". IOC president Juan Antonio Samaranch said it was the finest moment he had seen at the Olympics and Redgrave was duly knighted by the Queen.
24. FANNY BLANKERS-KOEN, LONDON 1948
Dutchwoman Fanny Blankers-Koen won four gold medals at the 1948 London Olympics - still the most by a female track-and-field athlete at one Games. These crowned other victories, less tangible, but more profound - over sexism, ageism and prejudice against motherhood. As recently as 1928, the Vatican protested the idea of women at the Olympics. Blankers-Koen competed in 1936, and was expected to star in 1940, but war intervened. By 1948, she was 30, a mother of two, and was accused of neglect by going to London. Notwithstanding, she won gold in the 100 metres, 200 metres, hurdles and relay, mostly by handsome margins, all the while yearning for her children. Back in Amsterdam, "The Flying Housewife" received Queen Juliana's felicitations - and a bicycle.
25. BASKETBALL, MUNICH 1972
It was the Cold War writ small. Going into the basketball final in Munich in 1972, the US had never lost an Olympic match, winning all 63. Its opponent was the USSR, then the embodiment of anathema. This was Control versus Kaos. With three seconds remaining, the US led by a point, and rejoiced. Then, maintains the US still, a third force entered. The International Basketball Federation, paranoid about the US's domination, twice ordered re-starts. The second time, a length- of-the-court throw found Alexander Belov, who made the winning basket. Pandemonium erupted. The US lost an appeal 3-2; the three ruling against them were all communist countries. The Americans boycotted the medal ceremony and, to this day, their silver medals lie uncollected in a Swiss bank vault.