Russell Brand holds up a gift from members of the Westboro Baptist Church on his US chat show Brand X.
Russell Brand interviewed two members of the Westboro Baptist Church on his US TV show Brand X this week. And we must give him credit for keeping his cool.
For those lucky enough not to know what the Westboro Baptist Church is, they're the charming fundamentalist Christians who turn up to funerals with placards like this: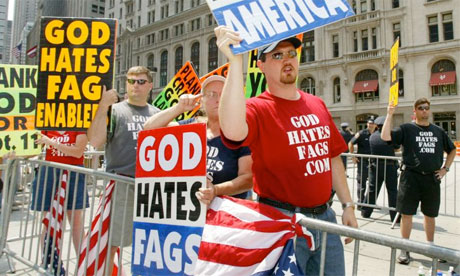 And use their children to prop us signs like this:
Advertisement
Anyway, Brand invited two members of the church on to his show for a surprisingly civilised debate.
While members of the audience shouted out the occasional smack-down, Brand challenged the men with lines such as:
"Have you considered that the bible, like all religious doctrine, may be allegorical and symbolic, to direct us toward one holy entity of love, as opposed to a simplistic, litiginous text to direct the behaviour of human beings? The bible wasn't written by a cosmic entity."
The host also engaged them in a game called "Heaven or Hell," asking whether certain celebrities are going above or below once they die.

At the conclusion of the interview, Brand brought a few of his gay friends onto the stage, which was a surprise to the WBC members. As you can see, they weren't too thrilled about it.