Gwyneth Paltrow on the cover of Harper's Bazaar. Photo: Harper's Bazaar
Gwyneth Paltrow covers US Harper's Bazaar this month as part of a publicity tour for her healthful cook book, It's All Good and her upcoming role in Iron Man 3. The great thing about Gwyneth is that, the more powerful she feels, (and she feels quite powerful at the moment - her book just hit number one on the New York Times best-seller list) the more she divulges. The result is usually some choice humblebrags about herself, her family and her famous friends. These are often sprinkled with a classy dig or two about how Chris is a great father without mention of him as a husband. And this time was no different. Let's take a look ... But first, a photo of her glorious physique!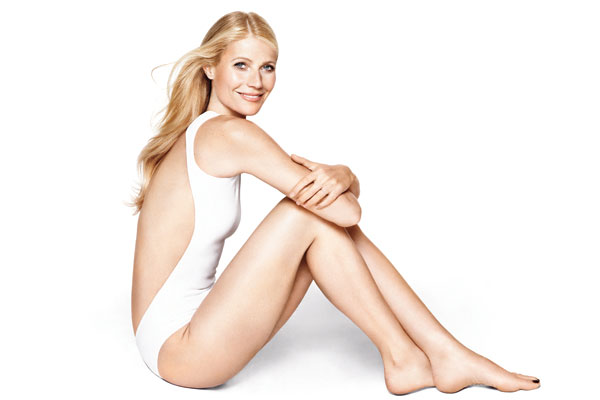 On mentoring Cameron Diaz, (who, as you know, has had terrible luck with the mens):
As the tabloids like to tell it, she is some kind of an unofficial life coach to Cameron Diaz, reportedly advising her, inter alia, to forgo sexual liaisons in a bid to achieve domestic stability. At this last bit, Paltrow gives a hearty laugh before answering: "I think that women, especially women in my job, come to me because they know I'm very loving and nonjudgmental and I'm not competitive, and I've been through a lot. And so they come round to talk about their stuff. I'm a bit of a mother hen. Everyone wants a home-cooked meal and to come over and talk about where they are in their life," she says. "I love it, and I feel that I have the most incredible women friends, some who are super famous, some who I've had since I was four years old. I love it that people will call me up and say, 'What do you think about this?,' because my dad was very much that person for everyone in his life. So I feel like I'm carrying on my dad's spirit in that way."
Advertisement
On how she keeps her skin looking good:
"You know, I use organic products, but I get lasers. It's what makes life interesting, finding the balance between cigarettes and tofu. I've probably tried everything. I would be scared to go under the knife, but you know, talk to me when I'm 50. I'll try anything. Except I won't do Botox again, because I looked crazy. I looked like Joan Rivers!"
Props to Gwyneth here for not claiming she is 'completely natural' or that she just uses 'moisturiser'. In fact, she admits to using lasers. Well played.
On her one guilty pleasure:
"My one light American Spirit that I smoke once a week, on Saturday night."
On her mentor, Jay Z:
"I don't hold on to fear as much as I used to, because I've learned a lot about genuinely not caring what strangers think about me. It's very liberating. It's very empowering, and I've learned a lot of that from Jay - Sean Carter - Z because his approach to life is very internal. It's a very good lesson to learn."
On her husband Chris Martin:
"We are growing into very similar people. It's cool, it's good. It's not always easy, though!"
We take it that means Chris has finally come around to her way of thinking? And we're grateful for that classy dig about him being difficult.
For more, go to HarpersBazaar