A few rad picks from our go-to pin emporium, Etsy. Photo: via Word For Word Factory
There's been an explosion of enamel pins on our daily Instagram scroll. From fabulously feminist words of wisdom to pop-culture memes (Kim Kardashian cry-faces, anyone?) and many an homage to trending hashtags and emojis, there seems to be a one for just about everything. Whatever you adore, there's an enamel pin to match.
Traditionally, we'd wear pins as a statement of allegiance to a certain political stance, sports team, organisation or cause. (Remember proudly fastening your Prefect, Peer Support and Math Olympiad pins onto your school-shirt collars in Year 5, despite the dorky connotations?) They're also the OG rebel rocker accessories, with throwbacks to punk stylings and DIY culture just adding to the cool factor.
Lately, Instagram and Etsy have taken this obsession to the next level. Both sellers and collectors have built a community of pin lovers online, tagging their friends and prompting DMs for trades, with click-to-buy links in bios. You can wear your pins with pride, knowing you're supporting and connecting with independent makers, artists and businesses, many of which are run by women.
The fashion world is joining the lapel club, too. Last season, brands such as Louis Vuitton, Saint Laurent and Dior Homme elevated them from childish knick-knacks to luxe accessories, as expensive as they are one-of-a-kind.
Advertisement
That misses the point, though. Of course, a large part of their appeal is how accessible (and cost-effective) they are. How many wardrobe updates start at just $1? They're miniature works of art. Not everyone can collect original paintings, but you can certainly own three – or 30 – quirky enamel pins.
These tiny markers let your fan flag fly, reflecting your personal style, niche interests and sense of humour. Own a collection, then pick 'n' mix as your heart desires. Like retro iron-on patches, use them to customise your denim jackets, jeans and other wardrobe basics, making old items feel new again. Only unlike patches, you can take them off at the end of the day and mix it up again tomorrow.
As one maker, Jen Gotch, told Refinery29: " I collect pins so that when I wear them, you'll know how I'm I feeling before I even say a word."
Fair warning, though: Their collectible nature can lead to addiction. Once you get started, you won't be able to stop.
Here are a few we're particulary fond of…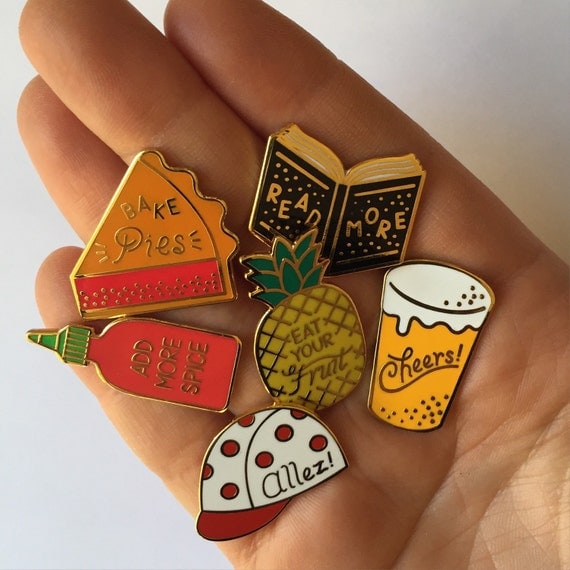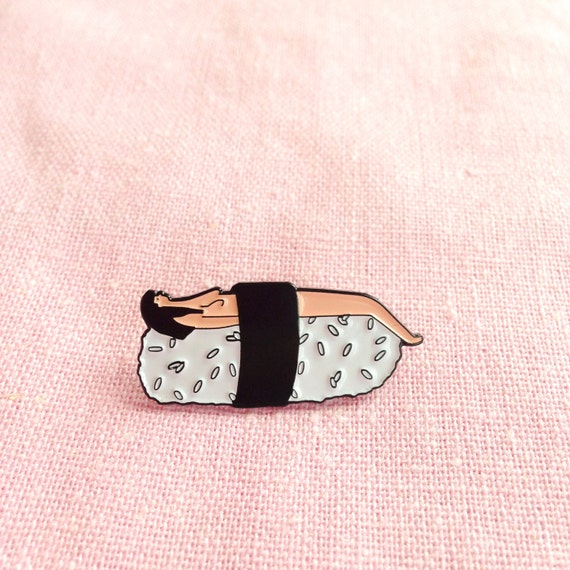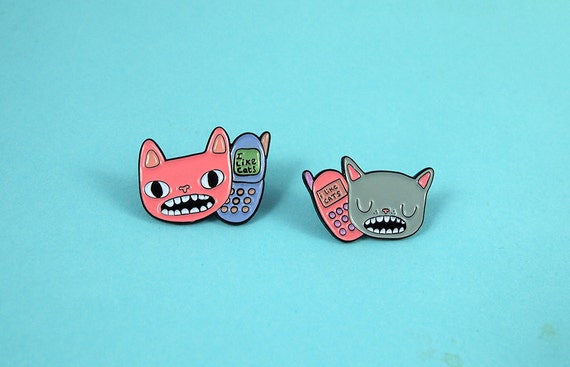 ​(This one is sadly sold out, but we're hoping for a restock.)