Of every ugly style era, which was the ugliest? We present an argument for each.
70s
A still from the 70s set American Hustle. That perm!
Advertisement
We're not saying the 70s didn't have its moments. Yet for every time Bianca Jagger whipped her hair and sashayed into Studio 54 looking like a real-life Lady Godiva, your dad left the house/wallpapered shag den wearing a leisure suit, bell-bottoms or bell-bottomed leisure suit. That is to say, there was a lot of good, but also so much bad.
We can't roller-skate around the fact that the 70s were particularly unforgiving for blokes. Coveralls! Sansabelt pants! Copious amounts of corduroy! A million polyester threads died for each and every outfit created in this decade. Looking back at Polaroids, we've come to the face-palming realisation that a suit jacket with no undershirt was never an acceptable sartorial choice. We don't even care if you were en route to a Bee Gees concert.
And then there are images like this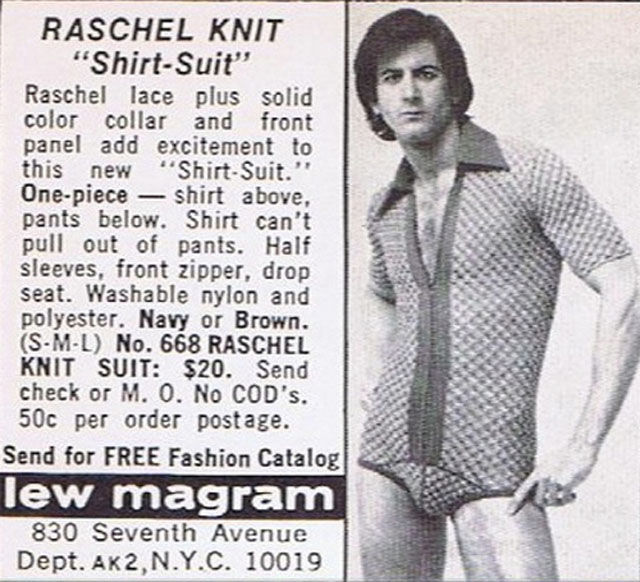 and I realise that Bradley Cooper's heinous roller-set perm in American Hustle didn't even scrape the surface of the bad choices that were made in this decade.
80s
Richard Avedon's glorious 80s shoot for Versace.
I could've easily posted a photo of MC Hammer what-is-going-on-with-that-crotch pants and left it at that, but instead I got digging through the old family albums. Of the decade before I was born, my sisters spent most of it clad in dresses that could've easily doubled as Laura Ashley bedspreads. My mother's ultimate style icon was Princess Di, whose taste has since been likened to that of a TV anchorwoman. And four out of five of my male cousins sported fat fluffy mullets on their wedding day, no doubt inspired by this heartbreaker.
Commonly perceived as the most egregiously offensive of the fashion decades, the 80s were a jumble of gelled hair, jazz hands, poufy sleeves, acid-wash denim, regrettable wire spectacles and Cosby sweaters. On the other hand, it also bought us power dressing, everything the Babysitter's club's ever wore, and Christy, Naomi and Linda in this gloriously grainy Richard Avedon-lensed shoot for Versace. And everything from batwing sleeves to shoulder pads was steeped in sociological and cultural history, referencing feminism and music. Yes, the 80s was ugly, but it certainly wasn't the worst.
90s
Beverly Hills 90210, much 90s experimentation.
With this recent retro redux, most of the trends we thought we'd buried at the back of our closets and at the bottom of those Salvos bins have returned with a vengeance – overalls, crop tops, sweatshirts around waists, Velcro-strap sandals, peasant tops, what have you. That's a mother load of irony for Kenzo to mine.
While many 80s trends were statement-making in essence, many 90s trends like, say, G-strings pulled beyond the waistbands of your low-rise pants, were plain inexcusable. There was no statement to be made – only obnoxiousness. Then there's that other problem with 90s-era fashion. A lot of it was as boring as butter on toast. Seriously, you think slip dresses are worth revisiting? As Hadley Freeman writes for the Guardian UK, "'90s fashion was just a long sigh of mehness, and I will always take ugliness and silliness over mehness."
00s
Can never un-see this. Remember when. Image via MTV.com
You thought the 80s were a hellish time to come of age? Try the aughties – the early-aughties to be exact – a decade bookended by Eiffel 65's 'Blue' and our fervent crush on Seth Cohen. Yes, there's plenty of nostalgia for the decade that saw my first kiss and cinematic masterpieces soundtracked to The Cardigans, The Cranberries and Sixpence None The Richer, but any fondness I have for the decade stops at the outfits.
Think Juicy velour sweatsuits, Fiorucci tees, Paul Frank everything, platform Skechers, wearing band-aids on our face for no apparent reason, this, frosted tips and Von Dutch trucker caps, which are like the Nickelback of fashion fads –any admission to liking, either then or now, is a brave confession indeed. That said, we've not yet moved far enough beyond the'00s to assess the sheer extent of its sartorial legacy, which is why we have to award the worst fashion decade to the 90s by default.