The pool may be shallow but the tan is deep.
The latest glow-getting formulas are designed to dry in a jiffy with next to no odour, but there's still an art to applying them. Here's how to faux tan without a faux pas.
1. Start from scratch: give your body a thorough scrub, focusing on trouble spots such as elbows, knees and ankles. Exfoliate to remove last week's leftover tan and prevent the colour that follows from looking patchy.
2. Hit the shower: it moonlights as a convenient tanning booth as it's easy to clean, especially if you're using a spray formula. St Tropez Everyday Gradual Tan Body, $34, 1800 358 999, is the gold standard for foolproof colour.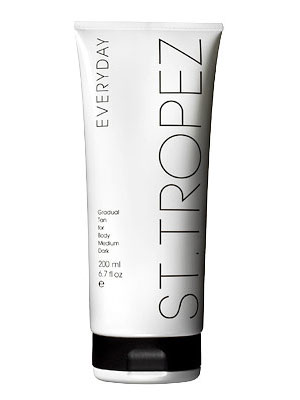 Advertisement
3. Don't forget the dial: you can always cut your face cream with a hint of fake tan for a subtle glow, but it's worth splurging on a face-specific tanning lotion – they're lighter in colour and, like a moisturiser, will hydrate without causing breakouts. Try: Ella Baché Great Face Tan Without Sun, $38, ellabache.com.au.
4. Switch up your make-up: just as changing your hair colour forces you to rethink your make-up routine, so too does tanning. Put anything shimmery or pale on the backburner – it'll look '90s frosted against the skin – and switch to warmer shades, such as a coral lipstick or peach blush for definition.
Ask the beauty editor ...
Q. Am i protected from the sun if I wear a foundation that has a Sun Protection Factor?
A. Most foundations now contain sunscreen, but it can be tricky to judge whether you're applying enough product to benefit from the full value of the sun protection factor (SPF). Instead, it's best to first apply a generous amount of sunblock to the face and think of the make-up's SPF as an added bonus. My vote goes to Nivea Light Feel Daily Face Veil SPF30, $11, which glides on in next to no time, without leaving the skin greasy or shiny.
Hot tip: the décolletage is often the first area to show signs of sun-related ageing, so remember to work the sunscreen down to the neck and chest.